Des centaines de chansons avec la même structure
La video suivante, très instructive, tourne sur une variante en Mi de quatre accords,
E B C#m A






Cette boucle est parfois surnommée "le carré magique" lorsqu'elle génère de superbes chansons et dans le cas d'une motivation un peu plus mercantile de l'auteur, on l'appelle alors le "carré de l'épicier".
transposée en Do

ça ferait C G Am F







comme
"Let it Be" (Beatles)
ou
"So Lonely" de (Police)
"Can't Stop the Feeling" (Justin Timberlake)
"Le Chemin" (Kyo)
"Dammit" (Blink 182)
"Forever young" (Alphaville)
" Il est Temps" (Kyo)
"Love is All" (Roger Glover)
"Right Here Waiting Wherever You Will Go" (Richard Marx)
"Scar"(Missy Higgins)
"Stronger" (Kelly Clarkson)
"Superman" (Five For Fighting)
"Une Seule Vie" de Palmas
"Zion Train" (Bob Marley)

La boucle peut aussi commencer aussi sur le troisième accord
en partant du vi-IV-I-V,







cette forme est surnommée parfois pour plaisanter "the Sensitive Female Chord Progression" soit "la progression féminine sentimentale".
ou encore le carré de l'épicier sentimental.
L'exemple en Do serait donc Am F C G.
"Aïcha" ou "Femme Libérée" sont construites sur cette progression,
tout comme "Toi plus moi" de Grégoire ou même
"Dragostea Din Tei" le tube d'Ozone
le fameux groupe Roumain.
En partant du Am on pourrait aussi jouer
"C'est pas comme ça" (Superbus).
"I Took a Pill in Ibiza" (Mike Posner)
"Milliers, Millions Milliards" (de Jean-Louis Aubert)
"Self Esteem" (The Offspring)
"This Is What You Came For" (Calvin Harris)
"Yalla" (de Calogero)
"You're Gonna Go Far Kid" (The Offspring)

La boucle C G Am F,

transposée en Do dièse

ferait C# G# A#m F#







comme

"Happy Ending" (Mika)
"Here Without You" (3 Doors Down)
"No Woman No Cry" (Bob Marley)
"Welcome to my life"(Simple Plan) refrain

La boucle C G Am F,

transposée en Ré

ferait D A Bm G







comme
"À Cash City" (Luc De Larochellière)
"Land Down Under "(Men At Work)
"Ma number One" (Tonton David)
"Né en 17 à Leidenstadt " (Jean-Jacques Golman)
"Pictures Of You" (The Last Goodnight)
"Que tu reviennes" (Patrick Fiori) refrain
Sex and Candy (Marcy Playground)refrain
"Wherever You WIll Go" (The Calling)
"With or without you" (U2)

ou en partant du Bm on aurait






"Despacito" de Luis Fonsi
Magic In The Air (allez allez allez)" de Magic System
le refrain de
"Ça Fait Mal" (de vivre sans toi) (Christophe Maë)
"Salut les Amoureux" (on s'est aimé comme on se quitte) (Joe Dassin)
"You Raise me up" (Josh Groban)
En Mib,
Eb Bb Cm Ab






"Baby" (Justin Beiber)
"Fall At Your Feet" (Crowded House)
"On s'attache" (Christophe Maë)
"Too Late To Apologize" (Timbaland)
"You're Beautiful" (James Blunt)
"She Will Be Loved" (Maroon 5)
"Tahiti" Keen'V

En Mi,

E B C#m A







on peut jouer aussi

"À nos actes manqués" (Jean-Jacques Golman)
"Mon Essentiel " (Extrait du Roi Soleil)
"Motorcycle Emptiness" (Manic Street Preachers)
"Soul Sister" (Train)
"Don't Stop Believing" (Journey)
"No One" (Alicia Keys)
"Stop And Stare" (OneRepublic) refrain
"Take A Bow "(Rihanna)
"Under The Bridge" (Red Hot Chili Peppers)
"We're Not Gonna Take It "(Twisted Sister)
"What Makes You Beautiful" (One Direction)
ou en commençant par le C#m







"Whenever, wherever" (Shakira)


transposée en Fa

ça ferait F C Dm Bb






comme

" Afternoon Delight " (Starland Vocal Band)
"Lying Naked On The Floor" refrain (Natalie Imbruglia)
"Où et avec qui tu m'aimes", refrain (Pascal Obispo)
"les Tournesols" (Marc Lavoine)
"Toute Seule" (Lorie)
"Where's The Love" (Black Eyed Peas)
"Soul to squeeze" Red Hot Chili Peppers)

ou en commençant par le Dm comme

"Une Dernière Danse" (Kyo)
"Personne" refrain (Pascal Obispo)
"Self Esteem" (The Offspring)
"Torn" (Natalie Imbruglia) refrain

en Fa #

F# C# D#m B






comme
"If I Were A Boy" (Beyonce)
"Float On" (Modest Mouse)
"Luka" (Suzanne Vega)
"You Belong to With" (Taylor Swift)
"What's my age again" (Blink 182 )
départ sur le D#m
"Good Life" (One Republic)


transposée en Sol

ça ferait G D Em C







comme

"Africa Unite" (Bob Marley)
"Con te partirò" (Andrea Bocelli) refrain
"Comme elle vient" (Noir Désir)
"l'Encre de tes yeux" (Francis Cabrel)
"Man In The Mirror" Michael Jackson refrain
"Parce qu'on n'sait Jamais" (Christophe Maë)
"Time of your Life-Good Riddance" (Green Day)
"When I Come Around" (Green Day)
"Winter winds" (Mumford & Sons)

boucle en G départ Em
"Donne-moi le temps" (Jenifer)
"Elle m'a dit" (Cali)
"Jeune et Con" (Damien Saez)
"San Francisco" (Scott Mckenzie)
"U & Ur Hand" (Pink) refrain
"Zombie" (Cranberries)


En Sol#

G# D# Fm C#






"Angela" (Yannick Noah)
le refrain de "Liberée, délivrée" (Reine des Neiges)
" Viva La Vida" (Coldplay)

boucle en G# depart Fm





transposée en La

ça ferait A E F#m D







comme
les couplets de "Cendrillon" (Téléphone)
le refrain de "Country Road" (John Denver)
le refrain de "Someone like you" (Adèle)
Stereo Hearts (Gym Class Heroes)
"Lady Mélodie" (Tom Frager)
"le Sourire" (Emmanuel Moire)
"Take On Me" (A-ha)

avec F#m au début






"Africa" (Toto) refrain
"Cheap Thrills" (Sia)
"Cose della Vita" (Eros Ramazzotti)
"Danse" (Grégoire)
"Kids" (MGMT)
"Tom's Diner" (Susanne Vega)


transposée en Si bemol

ça ferait Bb F Gm Eb






comme
"Lucie" (Pascal Obispo) refrain
"On ira" (Jean-Jacques Goldman)
"Quatre Mots sur un Piano" (Jean-Jacques Goldman)
"Quelqu'un m'a dit," (Carla Bruni)
"Teardrops on my guitar"(Taylor Swift) refrain
Don't Trust Me (30h!3) refrain

En commençant par le Gm






comme
"Aicha" (Khaled)
"Hall of Fame " (The Script)

transposée en Si

ça ferait B F# G#m E






comme

"Bleu Noir" (Mylene Farmer)
"Collide" (Howie Day)
" I'm Yours" (Jason Mraz)
"Not Pretty Enough" (Kasey Chambers)
Save Tonight (Eagle Eye Cherry)
"Payphone" (Maroon 5)
"Can You Feel The Love Tonight" (Elton John)
"You Found Me" (The Fray)
En partant du G#m





"Ain't Your Mama" (Jennifer Lopez) refrain
"Duele el corazon " (Enrique Iglesias)
"Poker Face" (Lady Gaga)


Astuce pour transposer de mémoire
T V vi IV
d'abord bien retenir le cercle des quintes c'est le même que celui des quartes mais dans l'autre sens, du coup on en connait deux. Ensuite se rappeler les gammes relatives comme "G Em" ou "F Dm" ou les plus connues "C Am" (Do Lam) qui ont la même gamme. Voici une gamme de La mineur :
La si do ré mi fa sol
la si
(avec un do# l'accord serait majeur)
La si
do ré mi fa sol la si
est une gamme de Do majeur
(avec un mib l'accord serait mineur)
selon d'où l'on part, la gamme change de nom, de mode, et de couleur mais les notes sont les mêmes, c'est pour ça qu'on qualifie les gammes de "relatives".
Sur la progression qui nous occupe on pourrait faire l'essuie-glace
do sol
do
fa do sol
do
fa
mais on alterne le do avec le la mineur do sol
Am
fa do sol
Am
fa
assez proches pour ne pas dénoter mais assez décalés pour relancer la boucle.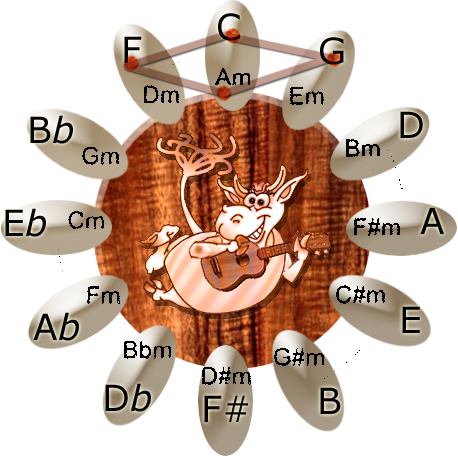 T c'est la tonique, exemple Do
je sais maintenant qu'il est coincé sur le cercle des quintes entre le Fa et le Sol et qu'il partage sa gamme avec le Lam
ça tombe bien je n'ai besoin que de ceux-là.
Si T c'est Do je le joue d'abord,
et paf, un coup du coté quinte, Sol
paf un coup devant sur la gamme relative Am,
et paf un coup de l'autre côté sur la quarte. Fa et je recommence.
V c'est la quinte c'est aussi la dominante (pour se le rappeler c'est l'accord 7 qui d'habitude appelle la tonique —le Sol7 appellerait le Do) mais là au contraire, on commence par la fin Do > Sol
vi
On monte d'un ton (c'est du mineur, 6 tons plus haut, donc la même gamme relative que la tonique) Do > Sol> Lam
IV c'est la quarte, c'est aussi la sous-dominante c'est la tonalité qui résoudrait notre accord tonique s'il était dominant (le Do7 appellerait le Fa) mais on est encore à l'envers Do > Sol> Lam> Fa> et on repart.
Parfois on peut trouver des boucles partant de n'importe quel autre coin du losange reliant les quatre accords.
Pour transposer Ex
Je veux essayer en Sol
T devient le Sol en général c'est lui qui résoud le Ré7 donc on remonte le courant Sol > Ré >
la gamme relative Sol et Mi mineur ont la même portée et sont donc sur la même gamme, Sol > Ré > Mim
et IV c'est la tonalité qui résoudrait notre tonique Sol, c'est donc le Do
Sol > Ré > Mi m> Do
mais un petit dessin …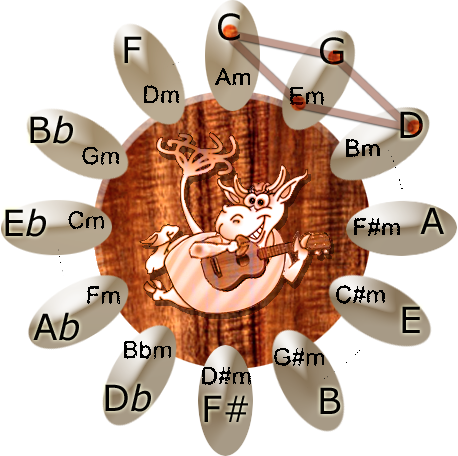 100 autres titres
construits selon cette suite
(à des tonalités diverses)
2 become 1 Spice Girls
9 crimes Damien Rice
l'Abandon Céline Dion
Africa Toto
Alejandro Lady Gaga
Always somewhere Scorpions
A message to you Rudy The Specials
Amazing Alex Lloyd
Again Janet Jackson
À nos actes manqués Fredericks Goldman Jones
Au paradis
refrain
Gerald de Palmas
Barbie Girl Aqua
Be mine David Gray
Birdplane Axis Of Awesome
Blurred lines (Robin Thicke ft. T.I. & Pharrell)
Breakaway Kelly Clarkson
Bonne Idée J.J. Goldman
Broken Hearted Girl Beyoncé
Canvas Bags (Tim Minchin)
Cendrillon Téléphone
C'est ma terre Christophe Maé
Comme un avion sans aile Charlélie Couture
Complicated Avril Lavigne
Con te partirò (Andrea Bocelli) (G)
Country Road John Denver
Crazy For You Let Loose
refrain
Crazy night Kiss
Daddy DJ Daddy DJ
Disarm The Smashing Pumpkins
Do you know Enrique Iglesias
Down Under Men at Work
Dreaming My Dreams the Cranberries
Every Breath you Take The Police
Forever young Alphaville
Gotta be somebody Nickelback
Gotten Slash ft. Adam Levine
Grenade Bruno Mars
Helpless when she smiles Backstreet Boys
High Lighthouse Family
Hold my hand Akon ft Michael Jackson
Horses by Darryl Braithwaite
Hummingbird Cocoon
I can hear your heart beat Chris Rea
I Don't Want to Miss a Thing Aerosmith
If I Were A Boy Beyonce
I Knew You Were Trouble Taylor Swift John
I'm Stepping Out John Lennon
It's My Life Bon Jovi
I won't let the sun go down on me Nik Kershaw
Je marche seul JJ Goldman
Je suis tombé pour elle Pascal Obispo
Je te donne JJ Goldman
Kids MGMT
Knocking on Heavens Door Bob Dylan
Let it rain Tinchy Stryder
Liberta Pep's
Like a Prayer Madonna
Like I love you R.I.O.
Love Me Justin Bieber
Love you more JLS
Mad NeYo
Mon p'tit gars Christophe Maé
My name McLean
My Name Is Jonas Weezer
Oh ! darling Beatles
One day Matisyahu
On ne change pas Céline Dion
Otherside The Red Hot Chili Peppers
Paparazzi Lady GaGa
the Passenger Iggy Pop
Perfect Pink
Poker Face Lady Gaga
Purple Rain Prince
Romeo and Juliet Dire Straits
Run Snow Patrol
the Scientist Coldplay
Sexual Healing Marvin Gaye
Sleeping in my car Roxette
Society Eddie Vedder
So cold Chris Brown
Solo Iyar
S.O.S. d'un terrien en détresse Daniel Balavoine (Starmania)
74 Soul to Squeeze Red Hot Chili Peppers
the Sound of Silence Simon and Garfunkel
Stay Stay Stay Taylor Swift
Stay the night James Blunt
Sur un air latino Lorie
Talking about a revolution Tracy Chapman
Tattoo Jordin Sparks
Taylor Jack Johnson
Teenage life Daz Sampson
Telling Stories Tracy Chapman
Temple of Love BWO
That don't impress me much
refrain
Shania Twain
Time After Time Cyndi Lauper
Titanium David Guetta
Torn Natalie Imbruglia
Umbrella Rihanna
Under the Bridge Red Hot Chili Peppers
U & Ur Hand Pink
Une seule vie Gerald de Palmas
Variation sur Marilou Serge Gainsbourg
Waitzing Matilda
Waka Waka (time for Africa) Shakira
Wannabe Spice Girls
What If God Was One of Us? Joan Osbourne
What Makes You Beautiful One Direction
What's my age again Blink 182
Whenever, wherever (Shakira)
Winter winds Mumford & Sons
"You're Gonna Go Far Kid" (The Offspring)
You Found Me (The Fray)
La liste n'est pas exhaustive, selon certains critiques musicaux plus de 60% de l'édition musicale de ces dernières années utiliserait ce procédé.
On peut même jouer cette boucle à l'envers,
comme dans "New Soul"
(ici en do)
C
I'm a new soul I came to this
F
strange world hoping I could
Am G C
learn a bit about how to give and take


Le Turnaround
Le turnaround peut être confondu avec un anatole sur deux mesures comme celui-ci






mais en fait le turnaround est l'utilisation des deux dernières mesures d'un groupe de huit, permettant de relancer le début de la séquence.Une grille en Do peut être relancée par





V IV I
ou





II V I
Si l''anatole est une suite harmonique, le turnaround lui, est plutôt une formule occasionnelle permettant de relancer le morceau.